Top Causes of Work Injuries and How to Escape it.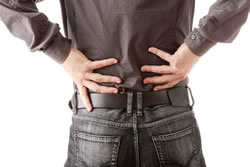 Are you suffering from a work injury in Aloha, OR? You're certainly not alone: musculoskeletal disorders like lower back pain and arthritis are the main causes of work disability in the United States, according to the Council for Disability Awareness (CDA).
The Worker Disability Study
In 2013 report from the CDA, around one in three workers (34%) claiming social security benefits for disability struggled with musculoskeletal disorders, along with 30.7% of workers making private insurance claims. The report reveals a persistent increase in the prevalence of musculoskeletal disorders in US workers. Between 1960 and 2011, the amount of individuals receiving social security for musculoskeletal diseases quadrupled.
Growing rates of these issues are likely the result of an aged workforce. In 2012, the percentage of older adults claiming disability benefits grew for both private insurers and social security. Currently 57% of private insurance disability claimants are more than 50 years old. Overall 54% of private insurance claimants are women.
Aloha, OR Work Injury Care
So, how can you lessen your pain and get back to a typical, successful work life? Seeing a chiropractor could be your answer. With chiropractic, there is no need to miss a significant amount of work as you heal from surgery or cope with the side effects of drugs. Instead, chiropractic specialists work to cure work injuries using non-invasive, natural methods that permit many patients to work as they recover. Your Aloha chiropractor specializes in evaluating and treating work injuries like carpal tunnel syndrome, back pain, neck pain, and more. Remember, you shouldn't have to work or live in pain! Pick up the phone and call First Choice Chiropractic and Rehab today!
Reference
The 2013 Council for Disability Awareness Long-term Disability Claims Review. Council for Disability Awareness. Accessed June 18, 2013. http://www.disabilitycanhappen.org/research/CDA_LTD_Claims_Survey_2013.asp.